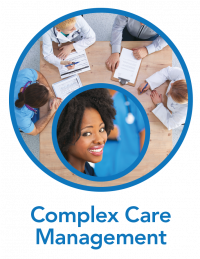 Project ECHO Complex Care Management (Project ECHO CCM) aims to translate the Project ECHO model, originally intended for physicians, into a tool that supports nurses as they care for their most complex patients. The faculty team on Project ECHO CCM is comprised of:
Nurse Practitioner and Nurse Executives
Medical Provider
Behavioral Health Provider
Complex Care Management Specialist and Certified Diabetes Educator
Registered Dietician
Together, the CCM faculty team provide their expert knowledge to assist the nurses participating in the session to practice to the top of their license and provide complex patients with person-centered care at a high quality and low cost.
At each session, nurses present their patient cases to the faculty team and receive expert advice and feedback to enhance their care delivery. The community of participating nurses also benefit from the learning network as well as the opportunity to improve their leadership and collaboration skills.  
"I take away something different from each time I've participated in this ECHO to help improve. Thank you for this ECHO. It is so helpful."