At Weitzman, we aim to transform the national health policy discussion and drive equitable change in the health care sector. As part of the CHC, Inc. family, we hold a unique bond with our patients, and believe policy is one of the most important tools to increase access to primary care and build healthier communities. We envision this work as part of a multi-sector effort that encompasses the government at the state, local, and federal level, nonprofits, and the private sector.
Service Areas of Expertise
Our experienced team adopts a community-based approach to understand the health-related needs of marginalized communities, identifies systemic gaps in services, and equips public and private sector clients with tools to effectively improve health outcomes for underserved populations across the nation.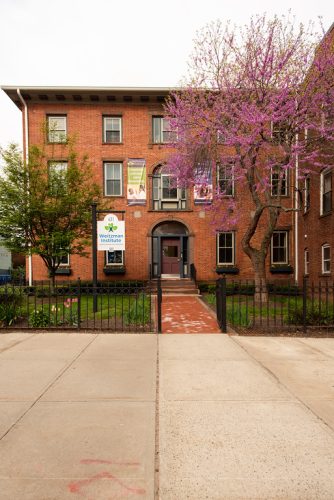 Addressing Mental Health Impacts in Cancer Patients and Survivors at Federally Qualified Health Centers
Numerous studies have established a connection between cancer populations and the increased likelihood to experience mental health disorders and symptoms. This blog post discusses why primary healthcare settings, including FQHCs, should implement and screen cancer and cancer remission patients to identify those who are experiencing negative mental health impacts from their cancer experience.
Addressing Food Insecurity in School-Based Settings: Keeping Youth Fed as Costs Rise
With the rising costs of food and families having less money to spend, schools, now more than ever, are playing an important role in keeping youth fed who may be facing food insecurity. The Weitzman Institute's new piece, "Addressing Food Insecurity in School-Based Settings: Keeping Youth Fed as Costs Rise" provides an overview of the important services and resources schools provide to students who face hunger, including on-site food pantries, school meal programs, and school-based health centers.  It also discusses recent federal action to address this issue and what steps should be taken to ensure students can continue to access food while at school.
How Federally Qualified Health Centers Can, And Should, Promote Environmental Justice
Federally Qualified Health Centers are uniquely positioned to address environmental justice as part of their mission to promote the health and wellbeing of the most vulnerable members of society. There are several ways in which they can have a direct impact on the patients and communities they serve by supporting environmental justice efforts.
Addressing the Health and Social Needs of Refugees and Migrants at a Social Safety Net Clinic in CT
The United States' departure from Afghanistan in August 2021 resulted in over 76,000 Afghan nationals coming into the country, including to Connecticut. Federally Qualified Health Centers like the Community Health Center, Inc. (CHCI) have a longstanding history of working with underserved populations, and thus, are uniquely positioned to address the health and social needs of refugees. This blog post describes CHCI's implementation of a Saturday health clinic that launched in November 2021 for refugees in New Britain, Connecticut.
Wearable Fitness Tracker Use in Federally Qualified Health Center Patients: Strategies to Improve the Health of All of Us Using Digital Devices
As the use of connected devices rises, an understanding of how digital health technologies can be used for equitable healthcare across diverse communities is needed. The six Federally Qualified Health Centers involved in the NIH All of Us Research Program, including Community Health Center, Inc./Weitzman Institute, surveyed more than 1,000 adult patients regarding wearable fitness trackers. Findings indicate the majority expressed interest in having fitness trackers. Barriers included cost and lack of information, revealing that broad digital health device adoption requires education, investment, and high-touch methods.
The Rise of ACEs during the COVID-19 Pandemic
Adverse childhood experiences (ACEs) are potentially traumatic events that occur in childhood (0-17 years). They are a major public health concern with high potential to worsen as a result of the health, social, and economic repercussions of the coronavirus disease 2019 (COVID-19) pandemic. 

This policy brief looks at how the health, social, and economic impact of COVID-19 may result in an increases in ACEs, especially in our most vulnerable populations, and discusses the public health responses needed to effectively address ACEs in our communities.
Addressing the Health and Health-Related Social Needs of Homeless Youth
Exacerbated by the COVID-19 crisis, homelessness is a major public health challenge facing 4.2 million youth across the U.S. that disproportionately impacts LGBTQ+ youth and youth of color. Examining and solving for the links between social determinants of health, such as housing insecurity, and health outcomes is a core component of the work we do at Weitzman. Thanks to the generous support of the Aetna Foundation, "Addressing the Health and Health-Related Social Needs of Homeless Youth" is Weitzman's newest community-based participatory research project in New Britain, CT. This is a unique opportunity for young people who have experienced housing insecurity to examine the web of factors contributing to homelessness through the art forms of photography and storytelling, with a primary focus on youth of color and LGBTQ+ youth experiencing housing insecurity. Using a technique known as photovoice, participants were trained in photography and provided cameras to capture visual representations of their everyday lives. Their pictures and stories bring their concerns to life, and urge community leaders and policymakers to take action.
We work strategically with over 25 local partner organizations and government agencies to identify the health-related challenges causing youth homelessness and put together materials (e.g. podcasts, policy briefs, etc.) that increase policymakers', practitioners', and researchers' knowledge of best practices to improve health outcomes among this population.
National Partnerships And Strategic Collaborations
Truman-Albright Fellowship Program | Washington, D.C.
As part of our goal to foster a new generation of social change agents in the health care sector, we partner with the Harry S. Truman Foundation to identify public service leaders that are committed to improving health care and health outcomes for special and vulnerable populations. With support the Foundation's prestigious Truman-Albright Scholars program, we provide one-year funding for a Truman Scholar to join us as a Health Policy Research Fellow. The position is based in Washington, D.C.
Friendship Service Center | New Britain, CT
The Friendship Service Center (FSC) is one of the largest homeless services organizations in New Britain, Connecticut, providing housing and supportive services for people experiencing homelessness. As key partner of our part of the community-based participatory research initiative "Addressing the Health and Health-Related Social Needs of Homeless Youth,"  FSC has identified and referred young people to participate in our Photovoice project. They also provide space and IT support to host training session on Photovoice for our youth participants.
Ceiba Latino Equitable Development Collective | Philadelphia, PA
The Ceiba Latino Equitable Development Collective (LEDC) is the largest network of Latinx-founded nonprofit organizations in Philadelphia with a total annual spending impact of $465 million. As part of our national efforts, it is critical we impact communities beyond the state of Connecticut and work with out-of-state partners to improve health outcomes of medically underserved communities across the United States. In partnership with the Ceiba LEDC, we aim to increase local leaders' understanding of the health and health-related social needs of Latinx Philadelphians and develop interventions that effectively address those needs.