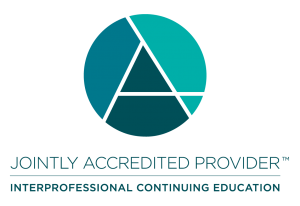 Joint Accreditation for Interprofessional Continuing Education
In December 2020, Community Health Center, Inc. and its Weitzman Institute received Joint Accreditation for Interprofessional Continuing Education effective through November 2024. CHC is the first Federally Qualified Health Center in the United States to be awarded Joint Accreditation, further solidifying its leadership role in offering multidisciplinary education for health care teams caring for the nation's most vulnerable patient populations.
The Weitzman Institute now has the ability to award continuing education credit (CEUs) to a wide array of health professionals represented by the below organizations:
Accreditation Council for Continuing Medical Education (ACCME)
Accreditation Council for Pharmacy Education (ACPE)
American Nurses Credentialing Center (ANCC)
American Academy of PAs (AAPA)
American Dental Association's Continuing Education Recognition Program (ADA CERP)
American Psychological Association (APA)
Association of Social Work Boards (ASWB)
Commission on Dietetic Registration (CDR)
Commitment to High Quality Education for the Health Care Team
The Weitzman Institute aims to provide high-quality, interdisciplinary, and innovative continuing education opportunities for health professionals in FQHCs and other primary care practices across the United States. Our mission is to enhance the team-based practice skills of primary care providers and care team members on chronic and complex conditions and diseases to improve the health of the vulnerable patient populations they serve.
Earning CME/CNE/CEUs as a Health Care Professional with the Weitzman Institute
The Weitzman Institute currently offers continuing education credit opportunities for a wide variety of live educational programs including Project ECHO, webinars, remote nurse practitioner residency didactics, specialized consulting offerings, and more. If you are currently participating in a Weitzman Institute program, please check in with your Weitzman contact person to confirm if your program offers credits and, if so, how to access these credits. 
The Weitzman Institute's Weitzman Education Platform (WeP) is designed to streamline your learning experience with us. The WeP is a dynamic CEU tracking platform that tracks your participation in all of your WI activities. With the use of the WeP, you are able to: 
View WI's full catalog of educational activities for providers and the care team
Register for and access all of your Weitzman Education activities using one simple login
Access asynchronous CEU options available at any time
Retrieve your CME/CEU/Participation certificates and transcripts on-demand 
Click here to access the Weitzman Education Platform
If you run into any problems associated with the Weitzman Education Platform, please submit a ticket through the WeP Ticket Submission.
Joint Providership Opportunities for Organizations Looking to Offer CEUs
The Weitzman Institute is proud to be partnering on a limited basis with other organizations to assist in developing, delivering, and evaluating educational programs in order to offer CEUs. If you are interested in partnering with the Weitzman Institute to offer CEUs for an upcoming continuing education event, please contact [email protected]. A formal application process will begin later in 2021, so please check back for additional details soon.