Complex Integrated Pediatrics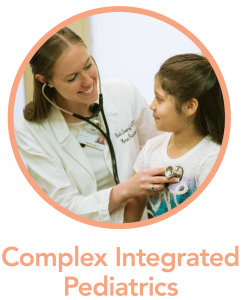 The Weitzman ECHO Complex Integrated Pediatrics connects primary care medical and behavioral health providers nationally with a multidisciplinary team of specialists in complex pediatric care. The Complex Integrated Pediatrics ECHO clinic uses twice-monthly videoconferencing sessions to explore a variety of medical and behavioral health topics designed to improve the quality of care and clinical outcomes for rural and underserved children and adolescents. The clinic is designed to emphasize the integration and collaboration between medical and behavioral health providers, reducing variations in care. The 10-month curriculum addresses topics such as RSV, substance use, asthma, anxiety, obesity, trauma, neurodiversity-affirming care, and nonsuicidal self-injury. 
Enrollment is currently open to rural primary care medical and behavioral health providers for the 2023-2024 program year.
To learn more or register for the program, please go to the Weitzman Education Platform Complex Integrated Pediatrics ECHO Page.
Weitzman Institute is pleased to announce that this ECHO is being offered as part of the Telehealth Technology-Enabled Learning Program (TTELP) in order to improve rural health outcomes.
This program is supported by the Health Resources and Services Administration (HRSA) of the U.S. Department of Health and Human Services (HHS) as part of a financial assistance award totaling $464,179 with 100% funded by HRSA/HHS and 0% funded by nongovernment source(s). The contents are those of the author(s) and do not necessarily represent the official views of, nor an endorsement, by HRSA/HHS, or the U.S. Government.