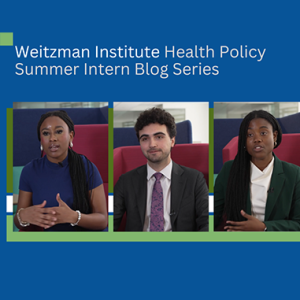 This summer, the Weitzman Institute was pleased to welcome our inaugural cohort of Health Policy Summer Interns. As part of their internship, our interns had the opportunity to write a blog highlighting a health policy topic that aligned with their interests and is relevant to the challenges underserved communities face in our healthcare system. During the month of August, these blogs will published as part of our 2023 Summer Intern Blog Series.
Primary Care Physicians: A New Prescription for Remedying Community Violence
Author: Darius Parakh
Community violence's unique ability to impact such a wide range of societal and individual functions is what makes the epidemic of violence one of the most pressing issues facing our nation. In this blog, Darius Parakh presents the case of recognizing the intersectionality at the heat of community violence and provides recommendations of the role Primary Care Physicians can play in addressing this
Giving your life to give life: Unraveling the disproportionate health risks facing pregnant Black Americans
Author: Oksanna Samey
For Black women in the United States, Tori Bowie's death highlighted a devastating reality: they are three times more likely than their white counterparts to die from pregnancy-related causes in the United States. In this blog, Oksanna Samey provides an overview of the health risks faced by pregnant Black women and makes recommendations to improve this.
The Role of School-Based Health Centers in Supporting Unaccompanied Migrant Children
Author: Adam Elzarka
Federal encounters with unaccompanied migrant children reached an all-time high at the U.S. – Mexico border in 2022, with nearly 150,000 unaccompanied migrant children being apprehended. Considering the migration and newcomer experience, the majority of these children have experienced trauma to some degree and are at a higher risk of anxiety, depression, and PTSD compared to U.S.- born children. For those enrolled, school-based health centers (SBHCs) play a foundational role in treating these health needs. In this blog, Adam Elzarka provides recommendations into the different ways SBHCs can help support unaccompanied migrant children..
Building Partnerships for Success: Collaborative Approaches to School-Based Health Centers
Author: Jilkiah Bryant
The successful establishment and operation of School Based Health Centers (SBHCs) largely hinge on collaborative partnerships between schools, healthcare providers, and community organizations. This blog will provide an overview of the importance of SBHCs and suggest recommendations for strengthening collaborative partnerships.