Substance Use Disorder In Pregnancy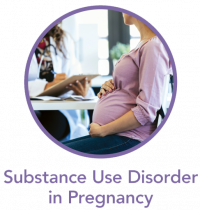 Women are most likely to develop a substance use disorder during their child bearing years, which is between the ages of 18 and 44 years old. The number of women who self-reported using substances such as heroin, tobacco and alcohol during their pregnancy has been increasing in recent years. It's crucial that obstetrics and gynecology experts are equipped with the knowledge and skill set to best treat this growing population.
Weitzman ECHO Substance Use Disorder in Pregnancy (also referred to as Project ECHO Support Models for Addiction Related Treatment or SMART), is designed and delivered in collaboration with Yale University, and meets once a month to connect OB/GYN's that have pregnant and post-partum patients with substance use disorders to a team of doctors who have content expertise in the Psychiatry, Perinatal & Childhood mental health, Addiction Medicine, and Prenatal Care.
Weitzman ECHO SMART sessions provide these Ob/Gyn's the support and expert advice they need to treat their growing panels of pregnant and post-partum patients with a substance use disorder.